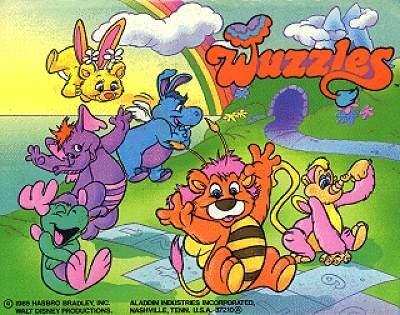 Dauer: 20:00 | Größe: 215 MB | Sprache: Englisch | Uploader: Cappa | HQ-Cover: Download
The Wuzzles is an American animated television series created for Saturday morning television, and was first broadcast on September 14, 1985 on CBS. An idea of Michael Eisner for his new Disney television animation studio, the Wuzzles are animal creatures composed of half of one animal and half of another. Only 13 episodes of The Wuzzles were produced, making it the shortest running animated series produced by Disney. More episodes were planned to be made, but they were never made due to the death of Bill Scott (the voice of Moosel). One season later, The Wuzzles moved to ABC (which was eventually sold to Disney) for reruns, and disappeared from network television after that.
The Wuzzles stars a variety of short, rounded animal characters (each called a Wuzzle). Each is a roughly even, and colorful, mix of two different animal species (as the theme song mentions, "…livin' with a split personality"), and all the characters sport wings on their backs. All of the Wuzzles live on the Isle of Wuz. Double species are not limited to the Wuzzles themselves. From the appleberries they eat to the telephonograph in the home, nearly everything on Wuz is mixed together in the same way the Wuzzles are.
The characters in the show were marketed extensively. The characters were featured in children's books, as poseable figures and plush toys (similar to Care Bears), and in a board game.
Disney premiered two animated series on the same day, The Wuzzles and Disney's Adventures of the Gummi Bears, but on different networks. The Wuzzles was on CBS, and Gummi Bears was on NBC. Although Gummi Bears was a successful series, The Wuzzles was not, at least in the US. The Wuzzles did not build ratings momentum there. However, it does have a fan base today. It was a much bigger success in the United Kingdom where it's pilot episode aired as a theatrical featurette
Reruns of the show were aired on both Disney Channel and Toon Disney.
01. Bulls of a Feather
Download: hier | rapidshare.com
02. Hooray for Hollywuz
Download: hier | rapidshare.com
03. In the Money
Download: hier | rapidshare.com
04. Crock Around the Clock
Download: hier | rapidshare.com
05. Moosel's Monster
Download: hier | rapidshare.com
06. Klutz on the Clutch
Download: hier | rapidshare.com
07. Bumblelion and the Terrified Forest
Download: hier | rapidshare.com
08. Eleroo's Wishday
Download: hier | rapidshare.com
09. Ghostrustlers
Download: hier | rapidshare.com
10. A Pest of a Pet
Download: hier | rapidshare.com
11. The Main Course
Download: hier | rapidshare.com
12. Class Dismissed
Download: hier | rapidshare.com
13. What's Up, Stox?
Download: hier | rapidshare.com
»
The Wuzzles
| »
Dead Link
| »
Usenet - Highspeed Download