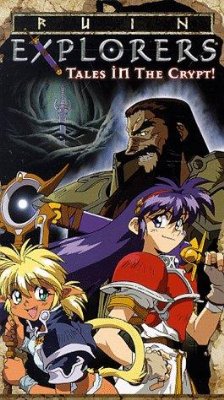 Dauer: 30:00 | Größe: 300 MB | Sprache: Englisch & Englische Subs | Uploader: technobabbel | HQ-Cover: Download
This four-part adventure combines sword-and-sorcery derring-do with slapstick comedy, in the tradition of El Hazard.
The brassy Ihrie wanders through the ruins of an unnamed planet with her partner, the elfin "Wiccan" Fam, in search of three enchanted treasures that can unleash the Ultimate Power.
Along the way they're joined by the devious merchant Galuff; the sorceress Racha; the swordsman Migel; and Lyle, prince of the destroyed kingdom of Rehbart.
Lyle is seeking revenge on the wizard Rugudorull, whose deadly magic devastated Rehbart.
But Rugudorull's fate is tied to the Ultimate Power and the three magic objects: the Proof of Royalty, the Mirror of Truth, and the Sword of Sargus.
As this unlikely band joins Lyle in his quest, they forge an alliance, with each character bringing a special strength: Migel, his skill as a warrior; Fam, an ability to talk to spirits and a pure heart; Ihrie, a particularly powerful magic–although using it temporarily turns her into a mouse.
1 As I Command Thee
Download: hier | rapidshare.com
2 Oh, Spirits that Reside in the Air
Download: hier | rapidshare.com
3 Let the Light of Admonishment Shine Upon the Fools
Download: hier | rapidshare.com
4 The Skies, the Sea and the Woods
Download: hier | rapidshare.com
»
Ruin Explorers
| »
Dead Link
| »
Usenet - Highspeed Download