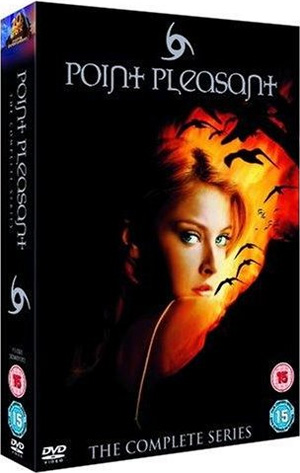 Dauer: 42:00 | Größe: 350 MB | Sprache: Englisch | Uploader: xchillix | HQ-Cover: Download
She's the child of darkness. And she's under protection now…
When a violent summer storm slams into the beach town of Point Pleasant, it brings with it the unconscious body of Christina Nickson. Rescued from the surf and taken to the home of a nearby doctor, the teenager is strangely reluctant to have anyone contact her family. For all her life, Christina has felt surrounded by a sense of wrongness, and now she's determined to figure out why. Yet the longer Christina stays in Point Pleasant, the greater the supernatural and deadly impact she has on the people around her – an impact that is destined to lead to the ultimate confrontation between good and evil.
S01E01 – Pilot
Download: hier | rapidshare.com
S01E02 – Human Nature
Download: hier | rapidshare.com
S01E03 – Who's Your Daddy
Download: hier | rapidshare.com
S01E04 – The Lonely Hunter
Download: hier | rapidshare.com
S01E05 – Last Dance
Download: hier | rapidshare.com
S01E06 – Secrets And Lies
Download: hier | rapidshare.com
S01E07 – Unraveling
Download: hier | rapidshare.com
S01E08 – Swimming With Boyd
Download: hier | rapidshare.com
S01E09 – Waking The Dead
Download: hier | rapidshare.com
S01E10 – Hell Hath No Fury Like A Woman Choked
Download: hier | rapidshare.com
S01E11 – Missing (aka When The Cat's Away)
Download: hier | rapidshare.com
S01E12 – Mother's Day
Download: hier | rapidshare.com
S01E13 – Let The War Commence
Download: hier | rapidshare.com
»
Point Pleasant
| »
Dead Link
| »
Usenet - Highspeed Download