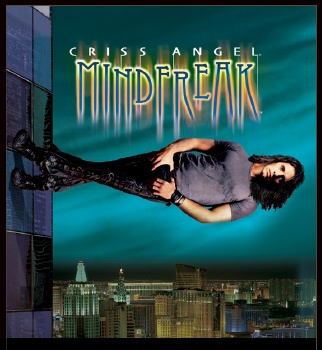 Dauer: 21:00 | Größe: 175 MB | Sprache: Englisch | Uploader: rygel16 | HQ-Cover: Download
Mystifier Criss Angel transcends tradition and has create a new form of extreme entertainment that he calls "mindfreak". Think Harry Houdini meets Cirque d'Soleil meets Fear Factor and you'll have a pretty good sense of what this show is all about.
Each show will be packed with things that boggle the imagination. To prove the credibility of his demonstrations, they are all performed live in public spaces in front of real pedestrians rather then on a stage before an audience.
S04E01 – Walk on Lake
Download: hier | rapidshare.com
S04E02 – Building Implosion Escape
Download: hier | rapidshare.com
S04E03 – Skeptic
Download: hier | rapidshare.com
S04E04 – Nail Gun
Download: hier | rapidshare.com
S04E05 – Barrel Drop
Download: hier | rapidshare.com
S04E06 – Cremation
Download: hier | rapidshare.com
S04E07 – Spirit of New Orleans
Download: hier | rapidshare.com
S04E08 – Escape Over Bourbon Street
Download: hier | rapidshare.com
S04E09 – Impenetrable
Download: hier | rapidshare.com
S04E10 – Close Up
Download: hier | rapidshare.com
S04E11 – Premonition
Download: hier | rapidshare.com
S04E12 – In Your Face
Download: hier | rapidshare.com
S04E13 – Mindfreaking With The Stars
Download: hier | rapidshare.com
S04E14 – Tronik
Download: hier | rapidshare.com
S04E15 – Billionaire Prediction
Download: hier | rapidshare.com
S04E16 – 24 Hour Birthday Bash
Download: hier | rapidshare.com
S04E17 – Car Wreck Vanish
Download: hier | rapidshare.com
S04E18 – Silverton Final Attempt
Download: hier | rapidshare.com
»
Criss Angel Mindfreak
| »
Dead Link
| »
Usenet - Highspeed Download