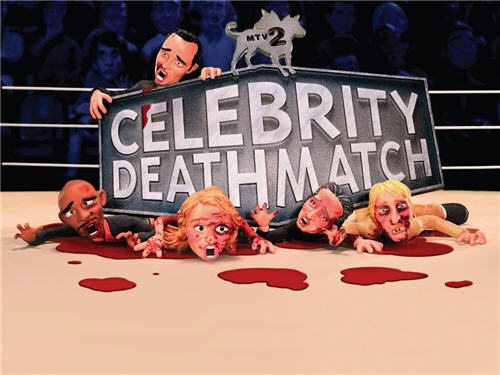 Dauer: 20:00 | Größe: 233 MB | Sprache: Englisch | Format: XviD | HQ-Cover: Download | Uploader: gary
Sport and event coverage re-defined! Today's hottest celebrities are pitted against each other in no-holds-barred fantasy fights complete with pre- and post-battle activities, one-on-one interviews, press conferences and behind-the-scenes locker room moments that parody the worlds of film, television, music and politics. Announcers Johnny Gomez and Nick Diamond offer commentary and play-by-play coverage while legendary referee Mills Lane presides over the Celebrity Deathmatch Ring.
Notes: (Homemade) collection from various sources with a lot of issues. From excellent to poor A/V, incomplete episodes, tv-recordings with a lot of annoying distracting reminders. S03E21 Missing.
Celebrity.Deathmatch.Complete.Season.1-6.DSR.FS.XviD-amaanu01
Download: hier | share-online.biz
Download: hier | uploaded.to
»
Celebrity Deathmatch
| »
Dead Link
| »
Usenet - Highspeed Download