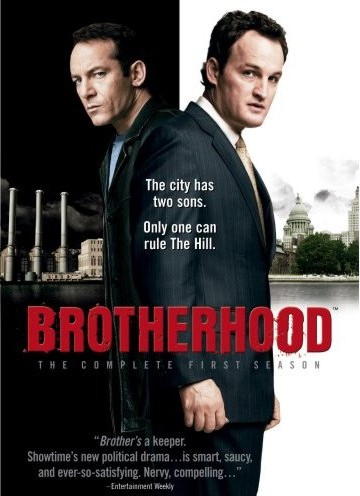 Dauer: 00:50:00 | Größe: 350 MB | Sprache: Englisch | Format: Xvid | HQ-Cover: Download | Uploader: lovecraft
This riveting Showtime series puts a familial spin on Angels with Dirty Faces, the 1938 James Cagney-Pat O'Brien classic in which two childhood friends take divergent paths–one becomes a priest, and the other a hoodlum. In Brotherhood, Michael Caffee (Jason Clarke) is an idealistic and respectable Rhode Island state representative dedicated to the preservation of his close-knit lower-middle-class Irish neighborhood, the Hill. His older brother, Michael (Jason Isaacs), is a gangster who returns home after a seven-year absence (one step ahead of a hit, two steps ahead of the Feds) to pick up where he left off. The stage is set for backroom skullduggery and mean streets thuggery, as both men pursue their visions of the American dream on opposite sides of the law. At the heart of this series is the conflict between the estranged brothers. With the exception of clueless matriarch MaryRose (Fionnula Flanagan), Michael is not exactly received with open arms. "You're a tornado," Tommy tells him early on. "You suck everything in and spit it out broken." Indeed, the man is a psychopath. When a henchman of neighborhood mob boss Freddie Cork (Kevin Chapman) threatens a woman, Michael not only repeatedly bashes his head against a car, but for the coup de grace, cuts off his ear. In one gut-wrenching scene, he compels a woman to sell him her store by inducing her mentally challenged brother to play Russian Roulette. No wonder Tommy insists, "We're not the same in any way." But don't be too sure. Michael is a good man and devoted father and husband, but he isn't above (or beneath) using Michael's inside information to blackmail a stubborn colleague who won't vote his way on a freeway project that could destroy the Hill.
As the season unfolds, he will be forced to make more ethically challenged deals with the powers behind the scenes, one of whom has a mysterious connection with his mother. Brotherhood mines the clash between personal and professional lives to flesh out its characters. "The people's business" doesn't pay well, and Tommy is forced to moonlight as a real estate developer, and perform all home repairs. Eileen (Annabeth Gish), his picture-perfect politician's wife, smokes pot and is having an affair with a man she knew in high school. Declan Gigg (Ethan Embry) is a conflicted policeman who grew up with the Caffees. Comparisons with The Sopranos are inevitable, but Brotherhood quickly establishes its own unique voice, if not accent.
Brotherhood.S03E01.DVDRip.XviD-SAiNTS
Download: hier | netload.in
Download: hier | rapidshare.com
Brotherhood.S03E02.DVDRip.XviD-SAiNTS
Download: hier | netload.in
Download: hier | rapidshare.com
Brotherhood.S03E03.DVDRip.XviD-SAiNTS
Download: hier | netload.in
Download: hier | rapidshare.com
Brotherhood.S03E04.DVDRip.XviD-SAiNTS
Download: hier | netload.in
Download: hier | rapidshare.com
Brotherhood.S03E05.DVDRip.XviD-SAiNTS
Download: hier | netload.in
Download: hier | rapidshare.com
Brotherhood.S03E06.DVDRip.XviD-SAiNTS
Download: hier | netload.in
Download: hier | rapidshare.com
Brotherhood.S03E07.DVDRip.XviD-SAiNTS
Download: hier | netload.in
Download: hier | rapidshare.com
Brotherhood.S03E08.DVDRip.XviD-SAiNTS
Download: hier | netload.in
Download: hier | rapidshare.com
Dauer: 51:00 | Größe: 1500 MB | Sprache: Englisch | Uploader: TV-SM
Brotherhood.S03E01.720p.HDTV.x264-2HD
Download: hier | netload.in
Download: hier | rapidshare.com
Brotherhood.S03E02.720p.HDTV.x264-2HD
Download: hier | netload.in
Download: hier | rapidshare.com
Brotherhood.S03E03.720p.HDTV.X264-DIMENSION
Download: hier | netload.in
Download: hier | rapidshare.com
Brotherhood.S03E04.720p.HDTV.X264-DIMENSION
Download: hier | netload.in
Download: hier | rapidshare.com
Brotherhood.S03E05.720p.HDTV.X264-DIMENSION
Download: hier | netload.in
Download: hier | rapidshare.com
Brotherhood.S03E07.720p.HDTV.X264-DIMENSION
Download: hier | netload.in
Download: hier | rapidshare.com
Brotherhood.S03E08.720p.HDTV.X264-DIMENSION
Download: hier | netload.in
Download: hier | rapidshare.com
Brotherhood.S03E06.720p.HDTV.X264-DIMENSION
Download: hier | netload.in
Download: hier | rapidshare.com
Dauer: 55:00 | Größe: 1700 MB | Sprache: Englisch | Format: H.264 | HQ-Cover: Download | Uploader: Q-the-STORM
Brotherhood, a Showtime original series, follows the lives of two brothers in the Providence, Rhode Island Irish-American neighborhood known as "The Hill". The blue-collar neighborhood has roots in old-world ways of street justice and shady dealings. Tommy Caffee (Jason Clarke) is a family man and local politician who is out to protect the community and its best interests. His world is turned around when his gangster brother Mike (Jason Isaacs) returns to "The Hill" to regain control of the seedy underworld
Brotherhood.S03E01.Uneasy.Lies.the.Head.720p.WEB-DL.DD5.1.H.264-MC
Download: hier | filesonic.com
Download: hier | netload.in
Download: hier | rapidshare.com
Download: hier | uploaded.to
Brotherhood.S03E02.Things.Badly.Begun.720p.WEB-DL.DD5.1.H.264-MC
Download: hier | filesonic.com
Download: hier | netload.in
Download: hier | rapidshare.com
Download: hier | uploaded.to
Brotherhood.S03E03.Let.Rome.Into.Tiber.Melt.720p.WEB-DL.DD5.1.H.264-MC
Download: hier | filesonic.com
Download: hier | netload.in
Download: hier | rapidshare.com
Download: hier | uploaded.to
Brotherhood.S03E04.The.Course.of.True.Love.Never.Did.720p.WEB-DL.DD5.1.H.264-MC
Download: hier | filesonic.com
Download: hier | netload.in
Download: hier | rapidshare.com
Download: hier | uploaded.to
Brotherhood.S03E05.Give.Me.the.Ocular.Proof.720p.WEB-DL.AAC2.0.H.264-MC
Download: hier | filesonic.com
Download: hier | netload.in
Download: hier | rapidshare.com
Download: hier | uploaded.to
Brotherhood.S03E06.The.Chimes.At.Midnight.720p.WEB-DL.DD5.1.H.264-MC
Download: hier | filesonic.com
Download: hier | netload.in
Download: hier | rapidshare.com
Download: hier | uploaded.to
Brotherhood.S03E07.All.the.Interim.Is.Like.a.Phanta.720p.WEB-DL.DD5.1.H.264-MC
Download: hier | filesonic.com
Download: hier | netload.in
Download: hier | rapidshare.com
Download: hier | uploaded.to
Brotherhood.S03E08.Birnam.Wood.Come.to.Dunsinane.720p.WEB-DL.DD5.1.H.264-MC
Download: hier | filesonic.com
Download: hier | netload.in
Download: hier | rapidshare.com
Download: hier | uploaded.to
»
Brotherhood
| »
Dead Link
| »
Usenet - Highspeed Download